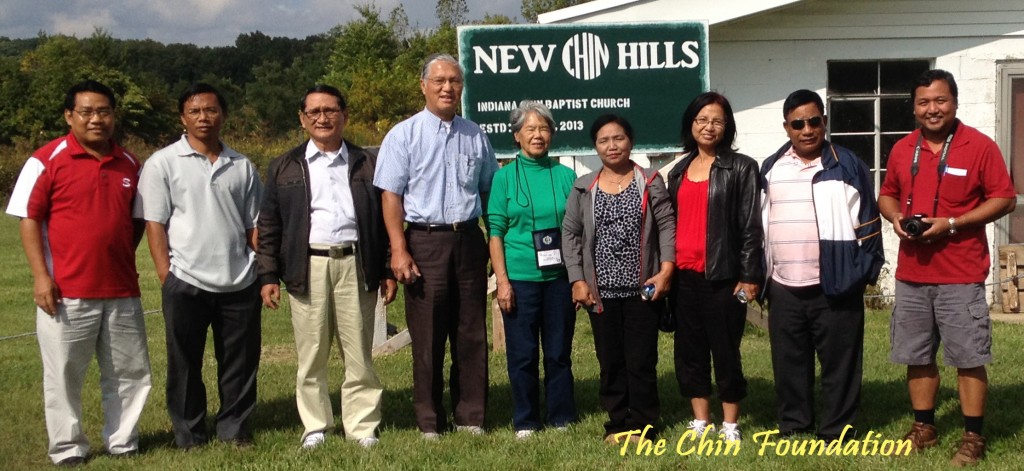 Board of Directors
Rev. Dr. Stephen Hre Kio
Kepling Khengmual
Dawt Tha Hlei Par
Paul Rung Er Lian
Rev. M. Thawng Kam
Rev. Ca Peng
Executive Director
Chin State Office
181 Bogyoke St
Hakha, Chin State
Myanmar
Thawng Cung Nung – Program Manager
Tha Tum Zing – Office Manager
Brief Background History
The Chin people from Burma (Myanmar) are scattering in many countries today as refugees and encountering unbearable problems in our daily lives while the Chin State (Chinland) itself is still in troubled water for decade long civil war in the country. Several discussions and seminars have been made to improve the socio-economic problems of the Chin people; however, such motivated discussion lasted for a few weeks for lack of implementing organization. In order to organize and connect those beneficial discussion and ideas into real life the Chin Foundation (CF) was formed in May 2010 in Indianapolis, Indiana.
The Chin community in Indianapolis is rapidly growing with the secondary migrants and new born babies. Indianapolis becomes the biggest community for the Chin people outside of Myanmar. The community mainly lives in Perry Township school district that Chin becomes the second largest minority in school district within a few years. Entering into a new and free society demands changes in social, culture, education, and economic norms. Successful adjustment in these areas enables individuals and families to become independent and fully functioning members of the new society.
Situation in Chin State, Myanmar, was a nightmare. Chin Christians faced more and more problems (majority of north side Chin are Christians). As the consequences, thousands of them have to leave their own homes and love ones. An estimated 50 thousands Chin live in United State alone. There are Chin communities and congregations in more than 15 countries such as USA, Canada, UK, Australia, New Zealand, Norway, Germany, Sweden, Netherlands, Switzerland, the Czech Republic, Singapore, Malaysia, Thailand, and Japan. There are about 100 thousand Chin still residing in Mizoram State of India and Bangladesh. This is the diaspora of the Chin in modern history. The Chins face many burdens as we begin life in new countries, but recognize at the same time that our loved ones need desperate help in Chin State, Myanmar. We need resources to survive and grow. Therefore, The Chin Foundation strives to strengthen the life of the Chins to meet the challenges that we encounter, advance the quality of life, and bring peace to our neighbors.
Vision:
Bridging the gaps to advance the quality of life for Chin and its neighbors and promoting racial harmony in a complex society.
Mission:
The Chin Foundation serves as a resource center; connecting people, services, education and technology. We are dedicated to engaging in economic, social and cultural development. We support agents that will assist in promoting peace and justice.
The Chin Foundation is a 501(C)(3) organization. Your generous donations are tax-deductible.
><><><><><><><><>
Nihin ni ah Chin miphun cu ram kipah ralzam dirhmun in kan itthekdarh dih, harnak phunkip kan tong cuahmah, cu lakah kan Chin ram cu harsatnak chungah a tang peng ko. Ram leng chuakmi vialte hi kan tlau thlu taktak sual lai maw, hitin maw kan ram te hi harsatnak nih a zelh peng ko lai, ti pawl hna hi tih phang ngaiin ceih lengmang asi. Cu bantuk dirhmun hna sersiam khawh deuhnak ding kong cu mi tampi nih ruah cio le ceih cio asi tawn ko nain cu ti vial cun a dih lengmang. Cu caah kan ifuntom khawh deuhnak hnga le siangrual deuh le aw khat chuah in kan cawlcangh deuh khawhnak hnga funtomnak sersiam kan hau ti ruat in May 2010 ah Chin Foundation (CF) cu Indianapolis khuaah rak dirh asi.
Indianapolis cu ram leng Chin mi khualipi ah a ser cuahmah. Guam in 2001 hrawngah siseh, Malaysia lei in 2007 hnu hrawng in siseh atom deuhin phanh a hong si hnu cun miphun pakhat khua thar le ram thar a rak tlami bantuk kan hong si ve. Khua thar bantuk ahcun miphun dang um cianak ah a fonmi kan si tikah kan nunning tthing te i nun, kan rak ruah tawn ning i khuaruah, le kan chaw kawl tawn ning tthing in kan van nolh tthan tikah mual kan pho deng lengmang. Cu caah a tthacho mi nun khuasaknak, cu nunnak a phakpi khomi khuaruah khawhnak le thiamnak hna siseh, mi bochan in mi kut orhnak le depdet nun hna kaltak in mah ke te dir khawhnak hna siseh, kan tuaktan khawh i kan ram zong cu bantuk in ning cang te a tthancho khawh ve i miphun dang hna lakah zoh dawh le zohchunhtlak si khawh ve ding tiang saduhthahnak cu ngeih asi.
Kan ram kong ruah tikah lung a fak. A thangcho ngai cang ti asi nain ram tthangcho dang hna he tahchunh tlak asi rih lo. Remdaihnak le hnangamnak taktak a um khawh rih lo caah ralzam in ram dang chuahnak a dong kho rih lo. America lawngah Chinmi 50,000 hrawng kan um cang ti asi. Cu pinah ram 15 hrawngah kan ithek darh; USA, Canada, UK, Australia, New Zealand, Norway, Germany, Sweden, Netherlands, Switzerland, Czech Republic, Singapore, Malaysia, Thailand, Japan, Korea, Philipine, Bangladesh le India tbt hna ah kan um hna. Bangladesh le India lawngah 100,000 leng kan um lai, ti asi. Kan umnak hmun cioah zatlang bu le khrihfabu tete cu asi khawh ning cio pohin dirh asi. Hihi Chin mi kan vahvaihnak tuanbia ah philh khawh ti lo ding thil kan tonmi asi. Hiti kan vahvaihnak cio hin kan ipeh khawh peng i, lungthin ah kan ikhah i, kan intuarnak hna ceih tti khawh lawng si loin chuak lakin kan pah khawh i, zalonnak, daihnak le dinnak kan chuahpi khawhnak hnga lungrual te in itanpi cio hna usih.